Then the LORD said to Moses, "Make a fiery serpent, and set it on a pole; and it shall be that everyone who is bitten, when he looks at it, shall live."

Numbers 21:8 NKJV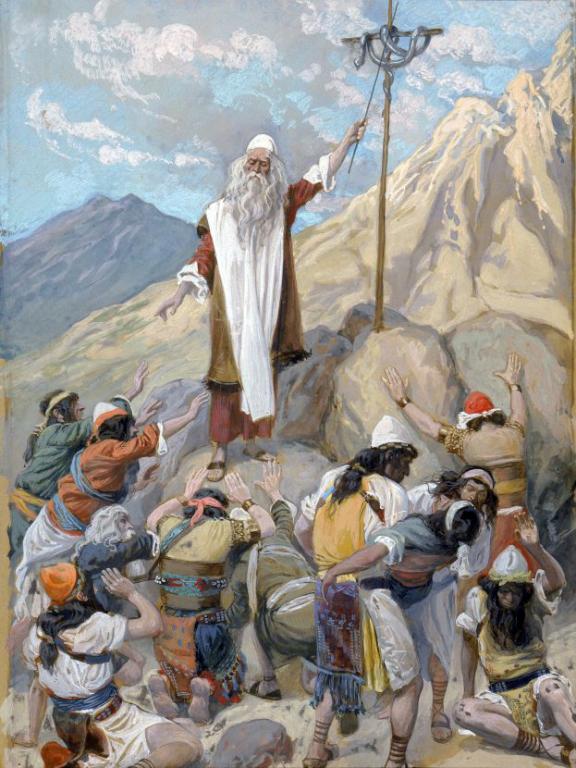 Numbers 21 describes how the people grew impatient on the way and how they spoke against God and against Moses and how the Lord sent venomous snakes among them, they bit the people and many Israelites died. The people knowing that they had sinned, pleaded and God set forth an interesting plan!
Nothing would, at first sight, appear more unreasonable than to look at a bronze serpent. That by looking at this bronze serpent, the deadly poison would be destroyed!
It clearly seems that this apparent absurdity was far better suited to restore the grace of God than anything else. If the serpents had been immediately removed (as the people requested), they would have assumed it to be an accidental occurrence, and that the evil had vanished by natural means. This called for those who were bitten to be obedient, follow the instruction. As one could imagine, according to man's judgment, how could a lifeless statue, lifted up on high, heal the poison (or do some of us do honestly believe in this!)?
Jesus made a remarkable statement, explaining that the serpent of Numbers 21:4-9 was a picture of the Messiah and His work.
Serpents are often used as pictures of evil in the Bible (Genesis 3:1-5 and Revelation 12:9). However, Moses' serpent in Numbers 21 was made of bronze, and bronze is a metal associated with judgment in the Bible.
A bronze serpent speaks of sin judged. Jesus, who knew no sin became sin for us on the cross, and OUR sin was judged in Him.
In the Numbers 21:4-9 account, the people were saved by simply looking to the bronze serpent. They had to trust that something as seemingly foolish as looking at such a thing would be sufficient to save them. (and surely, some may have perished because they thought it too foolish to do such a thing – just like how we perceive matters today!)
We might be willing to do a hundred things to earn our salvation, but God commands us to only trust in Him – to look to Him.
Even though Jesus bore our sins, He never became a sinner. Even His becoming sin for us was a holy, righteous, act of love. Jesus remained the Holy One throughout the entire ordeal of the cross.
"He must die because He would save, and He would save because He did love."

(Maclaren)